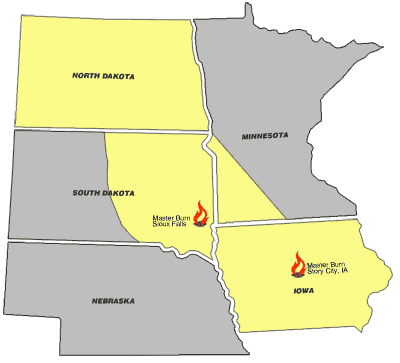 Master Burn's Service AreaMaster Burn is your authorized Clean Burn dealer in the Midwest. We have two offices, the main one in Sioux Falls, and our Iowa office located in Story City, Iowa.
We pledge to find the best waste oil heat solution for your facility. We will handle the installation and will make sure that your Clean Burn heater meets and exceeds all codes. We're also dedicated to making sure your Clean Burn furnace or boiler continues to give you long lasting savings while keeping the environment safe by efficiently recycling your used oil.
Our sales staff has a total of over 15 years of experience working to help businesses like yours save energy costs with a Clean Burn heater or boiler. They'll help you decide which system is right for your situation, then they'll oversee all the installation details so you end up with a flawless heating system that meets or exceeds all safety codes, while creating FREE heat.
Call Master Burn in Sioux Falls at 605-543-5817
or in Story City, Iowa at 515-733-2089