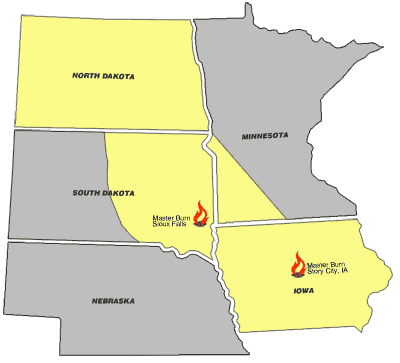 Our factory trained techs will get your Clean Burn Furnace or Boiler back in operation fastMaster Burn is the Clean Burn waste oil furnace and boiler distributor for a large swath of the Midwest, including Iowa, North Dakota, Eastern South Dakota and Southwest Minnesota.
Besides selling and handling all the installation details of your Clean Burn furnace or boiler, we're also pledged to help you keep your unit running with all the parts and service you could need.
Clean Burn Parts
While Clean Burn has the best warranty in the business, sometimes things do break down. Both our Sioux Falls and Story City, Iowa offices have a large stock of Clean Burn parts, ready to install. We've got all the critical parts on hand ready for 1-2 day shipment, or overnight if you're down.
Clean Burn Service
Master Burn also has three fully trained service techs on staff. They're up to date with factory training and are ready to hit the road to bring you prompt service and installation of any Clean Burn product.
If you have a Clean Burn problem, Master Burn is here to get your unit fully functional fast. Call Master Burn at 605-543-5817.